Playpark Elements - Planning Application Submitted
The planning application for all 4 phases of the proposed playpark elements at South Beach Promenade has been submitted with a decision expected sometime in January 2022.
The plan below was submitted as part of the planning application process and seeks approval for all 4 phases, albeit funding sources for Phase 2 & 3 have yet to be identified.
South Beach Regeneration – All Phases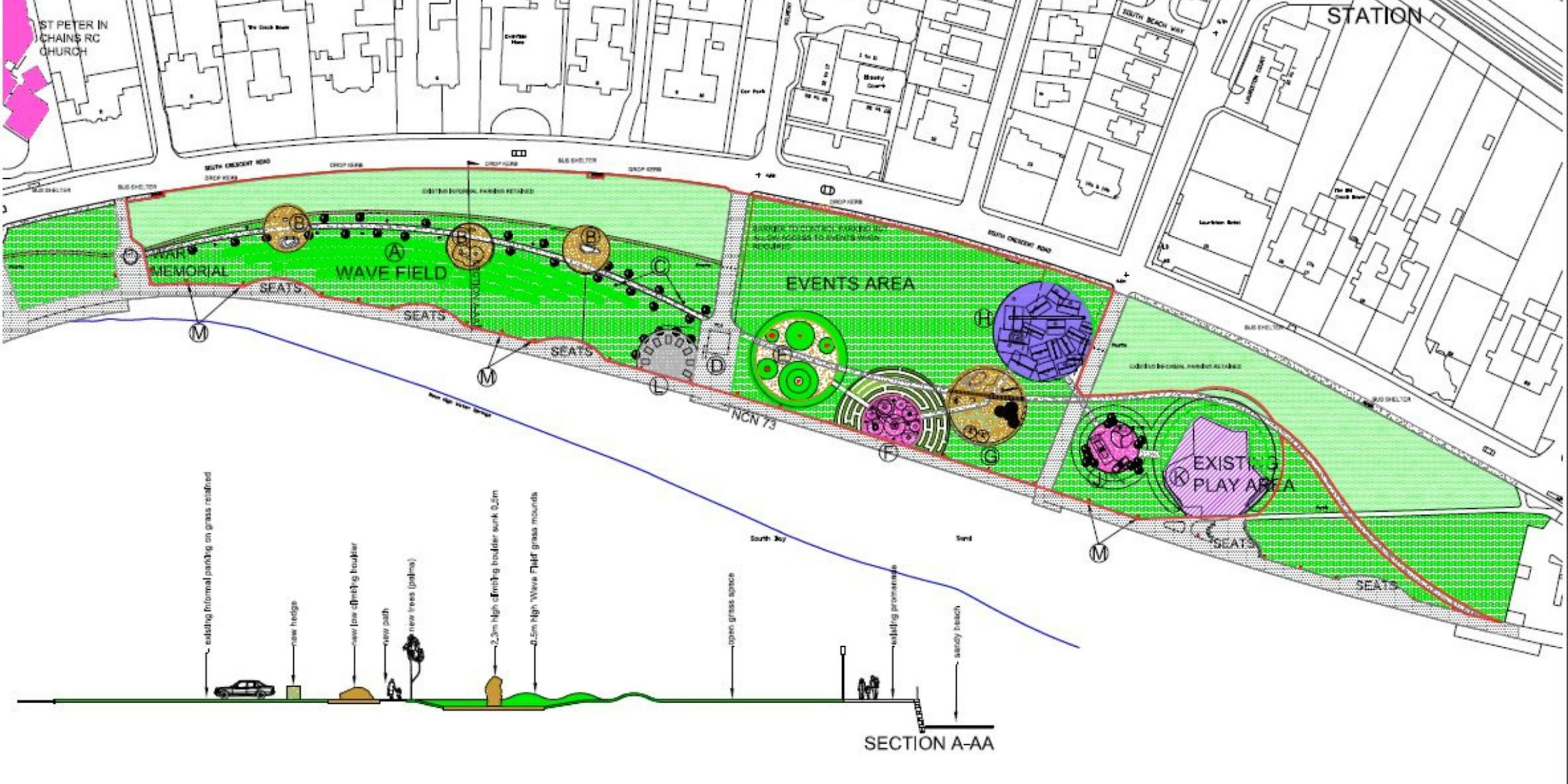 South Beach Regeneration – Phase 1
Phase 1 of the regeneration has already been successful in securing funding from The National Lottery Community Fund to the value of £249,584 and will proceed to tender process as and when the planning application has been approved with a view to starting on site around June 2022. Details of what are included in this phase can be found on the plan below.
Community Ownership
Following initial discussion with North Ayrshire Council it was agreed that the best way to approach this would be for ACDT to lease the land on a 20 year lease for land and 20 year lease for the toilet block and will be treated separately by North Ayrshire Council.
Negotiations regarding this are still ongoing and any changes or updates will be comunicated via the appropriate channels.
Planning Application Submitted To Convert Current Toilet Block
ACDT employed the services of IBP Strategy & Research to conduct & report on further engagement with Ardrossan residents & visitors. There was particularly strong support for the adoption and conversion of the existing toilet block to a community-run café with accessible toilets and the evidence from the engagement activities suggests that this would have a positive impact overall on frequency and duration of visits to the Promenade. Plans for this also include a community "hub" where visitors to the Promenade can access clubs for crazy golf, disability wheelers – allowing direct access to the beach, or collect a "free to use" deckchair whilst visiting.
Planning approval has been submitted for this redevelopment with a decision expected in January 2022. Plans are now underway to prepare an application for a Building Warrant.
The drawings and images below detail the proposed options and concepts for the regeneration of the Toilet Block current situated on Ardrossan South Beach.
At the bottom of this page you can also download and view the report produced by IBP Strategy & Research and a further report produced by Social Value Labs on the forecast Social Return On Investment (SROI) the project will produce for Ardrossan.
Please note that the toilet block conversion project, and the addition of 6 beach huts as shown in the above plans, is subject to planning approval and the RCGF funding application that has been submitted.
Artist Impression – Elevation 1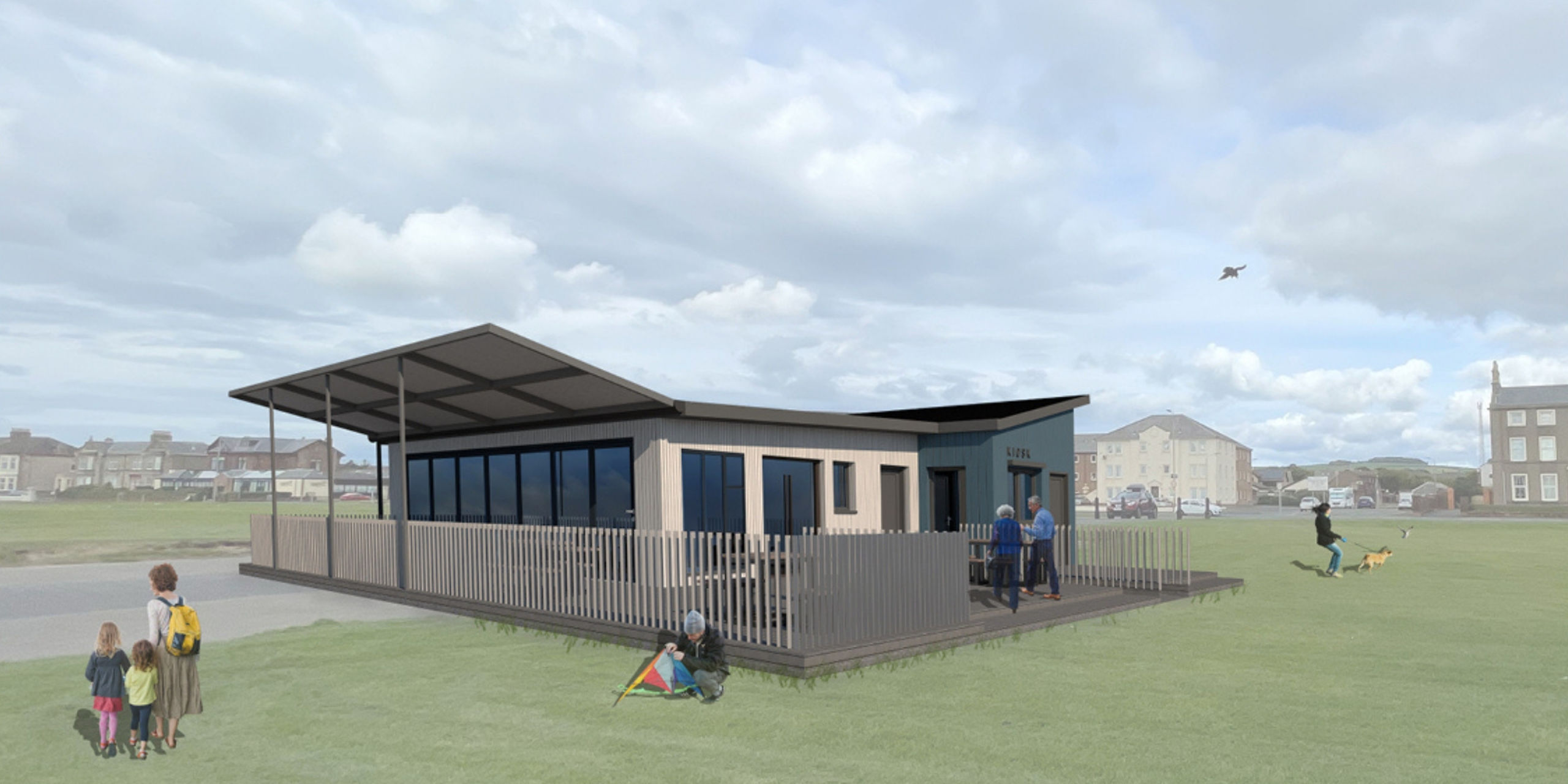 Artist Impression – Elevation 2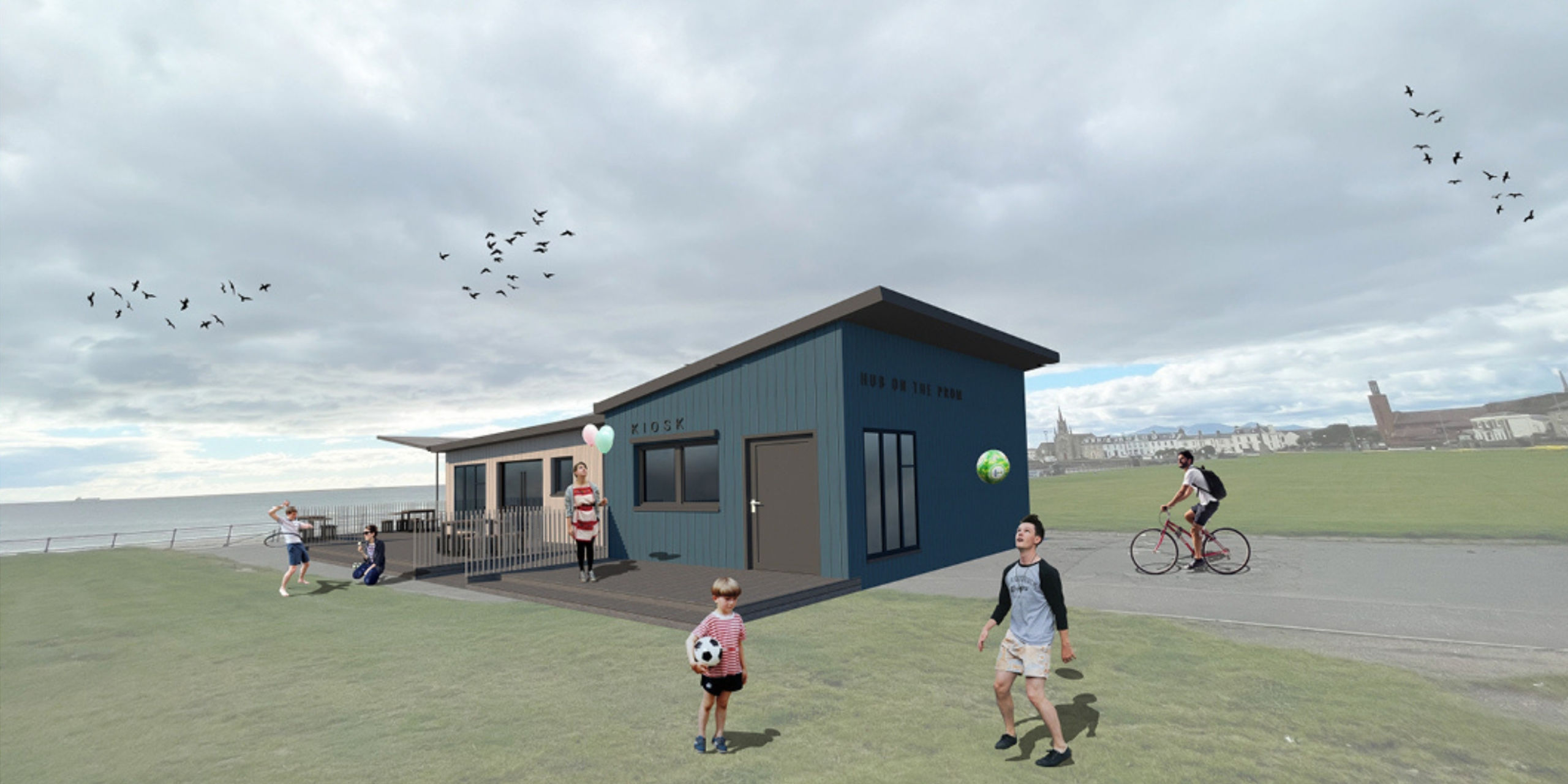 Proposed Sections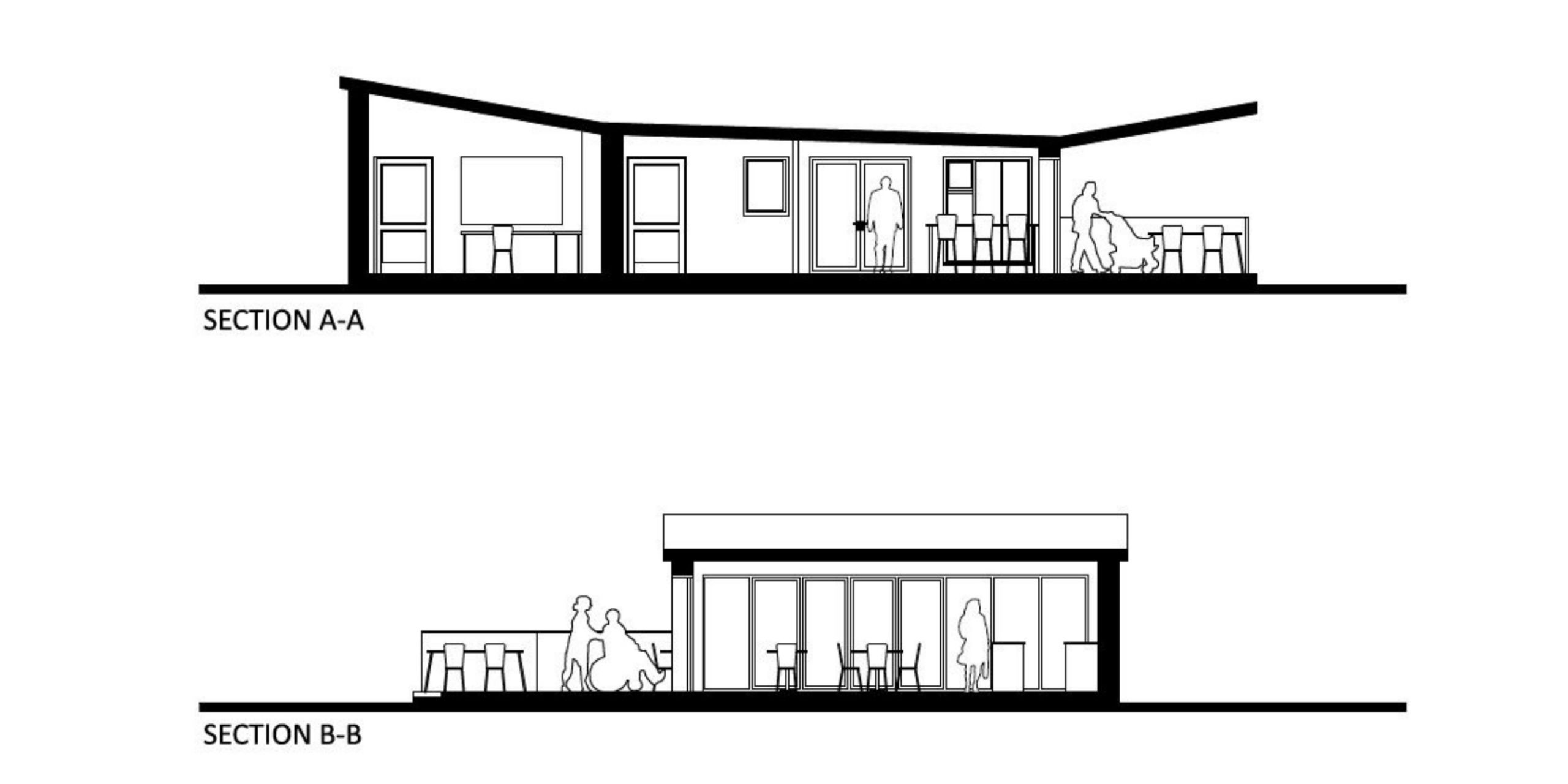 Proposed Floor Plan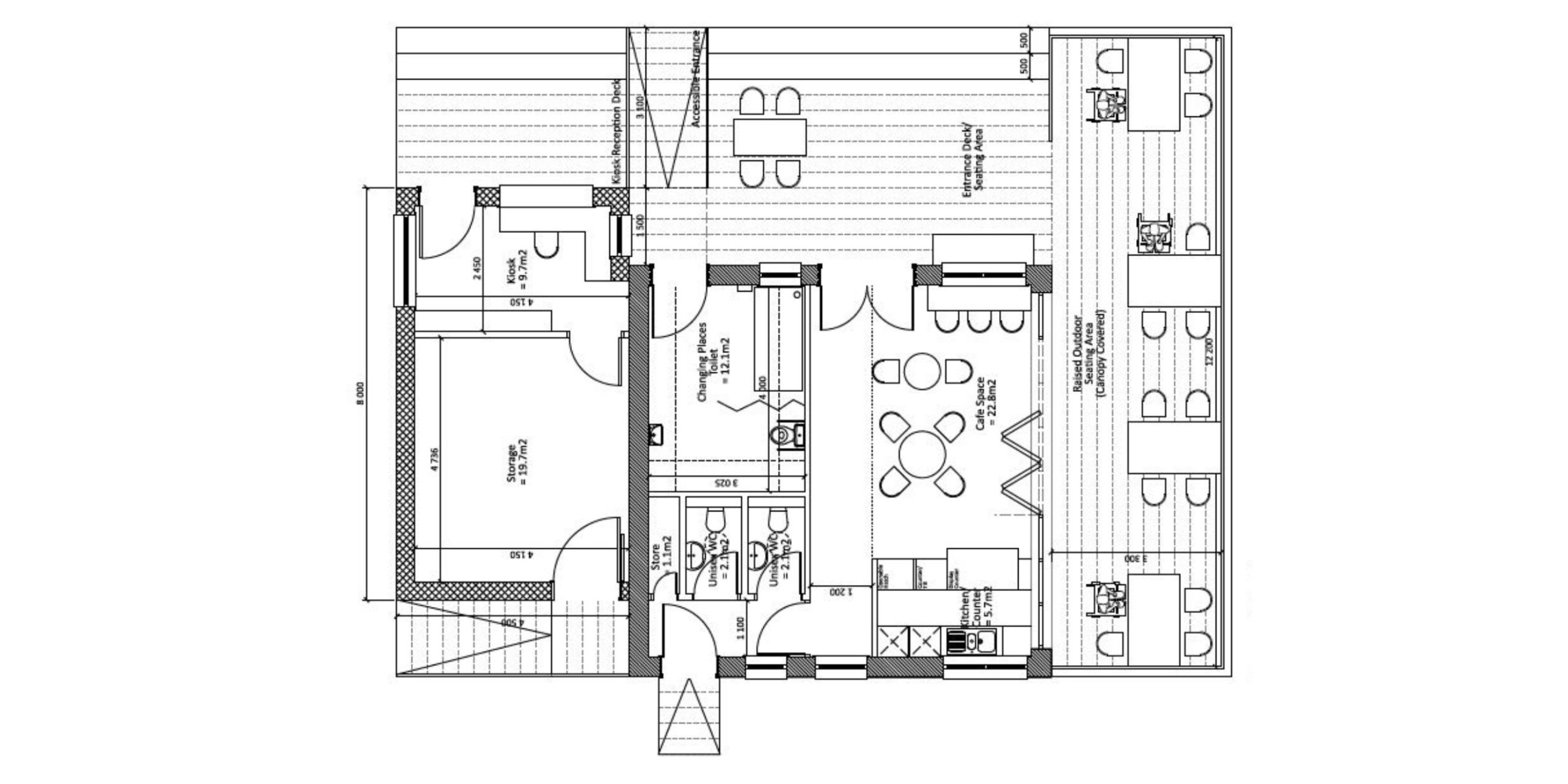 Regeneration Capital Grant Fund (RCGF) Application Submitted
Following a successful Phase 1 application, a Phase 2 application has been submitted in October 2021, via North Ayrshire Council, to the Scottish Government's Regeneration Capital Grant Fund for 2022/23.
The elements for which funding as sought included:
• Development of the café within the current toilet block
• Including an extension to create a Community Hub on the Promenade.
• Accessible toilet facilities to "Changing Places" standard.
• Development of additional, extended elements of an inclusive play park facility.
• Beach huts for commercial and community use (these would essentially be for retail use)
Following the wider engagement process, Planning permission was submitted late October 2021, with a decision expected in January 2022
WOULD YOU LIKE
MORE INFO?
View the report produced by IBP Strategy & Research. ACDT also employed the services of Social Value Labs to produce a report on the forecasted benefit to Ardrossan if the projects are successful. This is measured as a Social Return On Investment (SROI) and their report can be viewed/downloaded below

Follow our Social Media accounts and join the conversation about your local area.
Keep up to date with all of the exciting Community Development Trust project news, developments and plans for Ardrossan.