Ardrossan Community Development Trust Steering Group was formed to create a Trust to engage in activities that benefit and support the community of Ardrossan, the ACDT will make every effort to attract funding to resource local projects and activities and administer those funds in accordance with the constitution of ACDT. The Trust will work towards increasing opportunities, endeavour to improve the physical environment of the town, attract more visitors and revive the sense of pride in the town.
Eddie has lived in Ardrossan all his life and is a well-known and active person within the local community.
He lives in the town's Chapelhill Mount area with his two Daughters.
Eddie has spent most of his working life in community care spending the last 16 years as a team manager working with a national charity to provide better lives for adults with learning and mental health difficulties. After 22 years with his previous employer he joins the Trust as its Community Development Officer. Bringing to the post a fundamental passion for creating a more equal society where no one is excluded at any level due to discrimination, and a desire to improve the local community for everyone.
Out with work he plays an active part in the local community, he is a Trustee and Secretary of Ardrossan Community Sports Hub, a Director of Ardrossan Winton Rovers Community Interest Company, Chairman of Ardrossan Winton Rovers Youth Academy and Chairman/Secretary of the Ayrshire Amateur Football Association.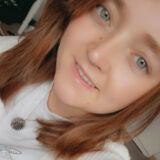 Emily Campbell
Community Development Worker
I spent my childhood and teenage years in Ayr. I am the oldest of 5 children I have 3 sisters and 1 brother. I live in Glasgow Street with my 2 cats midnight and Nala, in my spare time I enjoy visiting family, watching nature especially crows and foxes, watching movies and listening to music. I love all types of animals and I enjoy going walks down the seafront on a nice day. 
Since moving to Ardrossan I was utterly taken a back by the beauty of the town! I enjoy being able to go up cannon hill where the ruins of the castle are and where you can see the view of Ardrossan, Arran and the Ailsa Craig. Ever since I can remember I have always had a huge sense of community spirit but never really had the chance to be able to get involved in anything. Ardrossan has so much potential both for its visitors and residents alike. I want to help the trust put Ardrossan back on the map and bring more people to our little town. 
When I was given the chance to work with ACDT I jumped at it because I loved what the trust where about and the fact, they have the people who live and work in Ardrossan's best interests at the fore front of their minds and being residents/working in the area themselves. I really see ACDT doing so much good that is needed, I also want to be able to be a friendly face for men, women and children alike and work on my confidence and social skills but also taking part in things that will do some good. Helping to improve the community, give a voice to the voiceless and help ACDT with projects they have and want to achieve. I've always wanted to work in my town and help bring back community spirit and a place we can all be proud of whether it be we work live or are only visiting.  
Contact The Community Development Officer
Your Town, Your Voice, Your Vote
Become a member of the Adrossan Community Development Trust Today
Follow our Social Media accounts and join the conversation about your local area.