Phase 1 of the works are being completed by Landcare Solutions (Scotland) Ltd. and will include the refurbishment of the 18 hole Crazy Golf course, which will involve repairs to the structure of each hole. The floor of each hole will also be painted in bright colour's as will the 2.4 metre flagpoles ensuring a bright and aesthetically pleasing addition to the landscape.
Works also include 2 additional playparks to complement the existing park. These parks will be fully inclusive with wheelchair swings and ground level bounce mats among other play features with one of the playparks surrounded by a small maze with the play equipment at its heart facing out to the sea, the Trust are sure the facilities will provide many happy hours of fun for locals and visitors alike.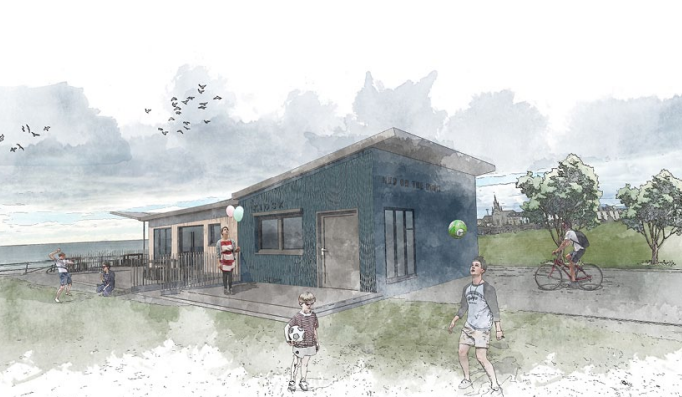 "It has taken a lot of hard work from the Board of Trustees and our Regeneration Officer to get to this point and I would like to express my thanks to them all.  Our thanks also go to the architect for the project, Mike Hyatt Landscape Architects, Wave Particle for their help with engagement and final proposals for the refurbishment of the crazy golf and to the various departments within North Ayrshire Council – special thanks to Connected Communities for helping us pull this together, Cunninghame Housing Association for their day to day project management support & The National Lottery."

Scott Mould, Chairperson, ACDT
…the project is planned for completion in 8 weeks' time and will be further complimented by the start of Phase 2 of the project

Projected Completion Timescale
Scott went on to say that the project is planned for completion in 8 weeks' time and will be further complimented by the start of Phase 2 of the project which will involve the demolition of the existing dilapidated toilet block and the building of a community café, new toilet facilities – including a 'changing places' toilet and a 'hub on the prom' where the new amenities placed on the land will be managed.
Phase 2 will result in the closure of the existing toilets to allow the rebuild resulting in no public toilets being available until the new building opens. We (The Trust) will keep residents and visitors informed by keeping our social media channels and our website updated with closure and reopening dates as they are confirmed.
Contacting The Development Officer
The Trust's Regeneration Officer can be contacted with any enquiries on 01294-608177, by emailing [email protected] or drop into our Reception area within the Frank Sweeney Centre on Glasgow Street.
Follow our Social Media accounts and join the conversation about your local area.
Keep up to date with all of the exciting Community Development Trust project news, developments and plans for Ardrossan.