Ardrossan Community Development Trust(ACDT) are delighted to announce that works to demolish the old Toilet Block at Ardrossan South Beach and rebuild a Café and Community Hub on the Promenade are now under way. The contractor, McLaughlin Construction, started works to strip out and demolish the old toilet block on Monday 13th November 2023 with the old toilet block now removed from the landscape.
The new 'Hub On The Prom' will provide a café, toilets – including a Changing Places toilet; designed to meet the needs of people with complex care needs; and a service area for the Development Trust's activities on the promenade, this includes servicing of the wheeler and deckchair projects and the reintroduction of the Crazy Golf course. Plans also include the introduction of 4 Beach Huts which can be rented seasonally and the introduction of a new Bike Hut which will provide charging point for electric bikes, storage for bikes and an area for bike maintenance. Plans and drawings can be found on the Trust's website: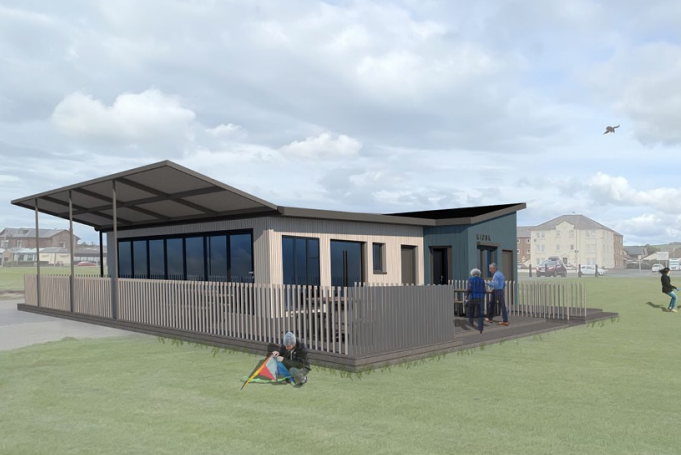 Phase 2 of the promenade development will see additional features added along the promenade and ACDT will keep the community updated as things progress.

The main funder is the Scottish Government's Regeneration Capital Grant Fund (RCGF) which supports place-based regeneration projects and is managed by North Ayrshire Council. The Trust also thank the its partners in the delivery of this project including NAC, Cunninghame Housing Association, Mast Architects and TCS Construction.
From start to completion the project will take approx. 20 weeks and allowing for the festive break should see the works completed on or around the middle of March, just in time for the Spring and Summer seasons.
Spring 2024 will see the completion of the first phase of the plans for the promenade complete with the Community Hub's Café and Service Area complimenting the refurbished Crazy Golf Course and the newly extended play parks with inclusive play equipment, including a wheelchair swing.

If you are a resident of Ardrossan please sign up for free membership of ACDT to ensure you are kept updated via email on progress of works and can attend the Trust's Annual General Meeting:
Follow our Social Media accounts and join the conversation about your local area.
Keep up to date with all of the exciting Community Development Trust project news, developments and plans for Ardrossan.